So I found a pretty cool model I could use for a Nurgle Demon on the net. It's made by Ultraforge miniatures, a Canadian home based mini company that sculpts their stuff at home and has them cast in the States. My mini was 69$ + 8$ shipping. So....
First off ordering was a fantastic experience. I had a few questions regarding size of the model etc. and they were answered instantly by one of the two owner/operators. Service was fantastic and I got my order in about a week.
The model is made out of resin. I'm no expert but as far as I've dealt with it there seems to be two types of resin used in terrain and stuff. The smooth shiny kind and the rough textured kind. This is the smooth kind which I have had some trouble with paint adhering to the model in the past. So I washed the model real thoroughly in dish soap and water.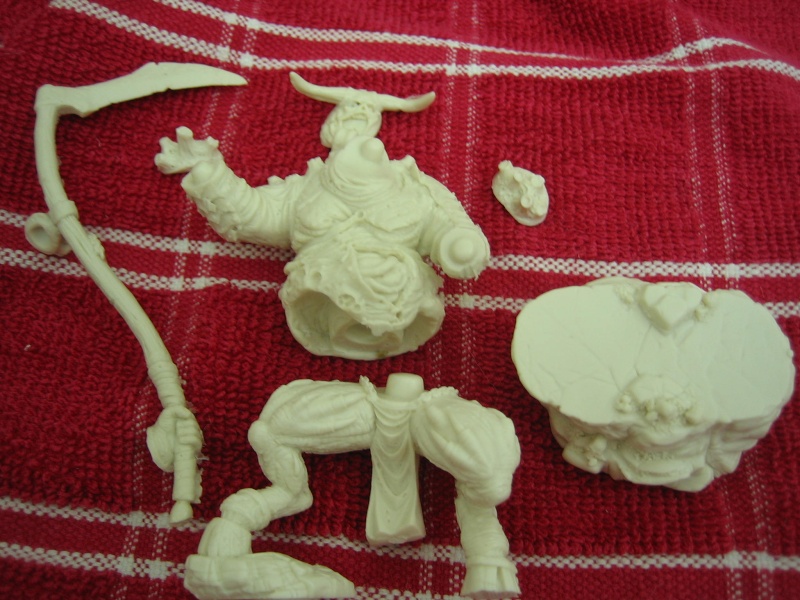 I assembled it using JB Kwik Weld (real good quick setting two part epoxy. Pinning is for sucka's!) for the big joins and Zap-a-gap CA (High quality super glue). There was hardly any mold line stuff to take off but I used a file for what little there was. I also added a nurgling left over from something to the base to help tie the model into the rest of my existing army. All the pieces fit nicely with only a small gap where the belly meets the waistline on the models right side. I doubt it'll be noticeable after priming. All in all from opening the pack to having the model ready for primer it was about 1hr spent so far.
All in all I am quite a bit more than pleased with everything about the model so far. Service was top notch, price seemed fair after I got the model due to it's size and great quality. There is enough detail to keep me occupied for some time painting it and I can't wait to start. I reccomed these models and this company to anyone interested. One note though, these models are not official and will NOT be allowed in any official GW event or tourny. So far so good....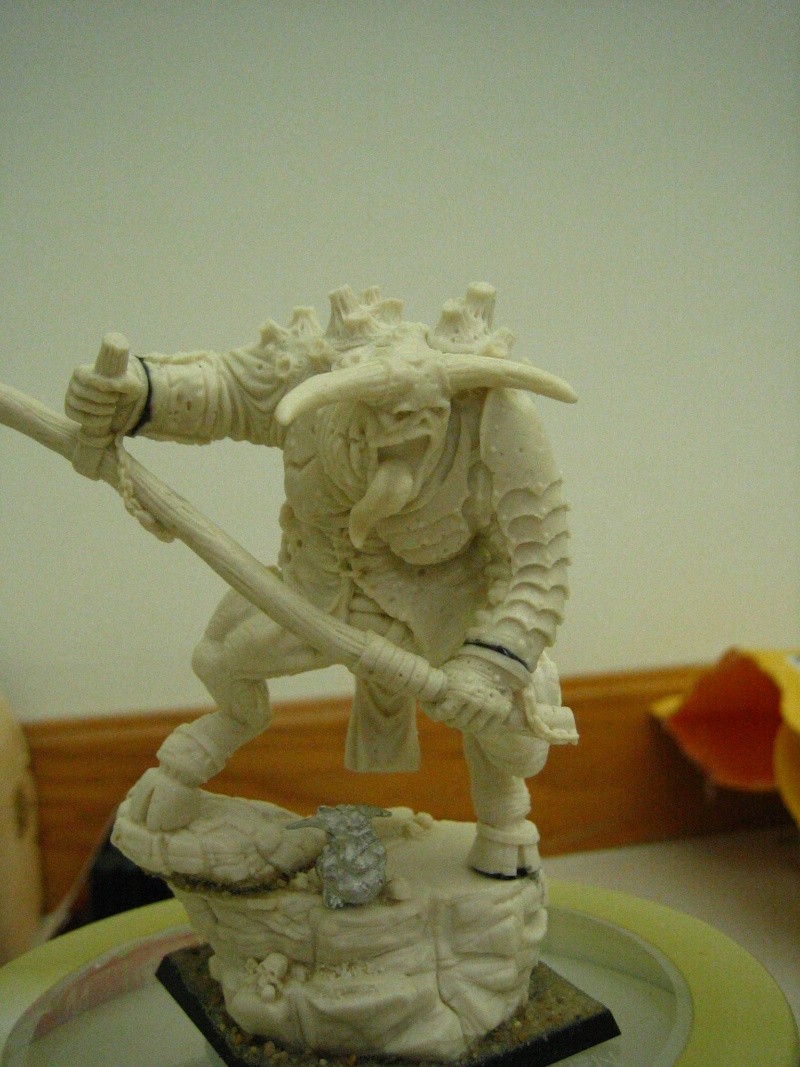 I almost ordered one of these awhile ago. I read a thread about the couple that ARE the company and the girl does amazing work. If I remember correctly, the legs are all the same but the upper body changes depending whether you order the Khorne model, etc...

the only thing that stopped me was that my friends would have whined it wasn't GW, and I THINK it was more expensive than $70.00 back then.

Cool model for display, though. You do this as well as the GUO and you'll have an unmatched Nurgle army.

No pressure.........



Posts

: 4316


Join date

: 2008-06-05


Location

: Moose Jaw



My plan is to use him as a herald on a palanquin (to account for the 50mm base). That's part of why I put the single nurgling on. He's just going to have to be the toughest nurgling there is!

I also may use him as a demon prince from time to time. It's a cool model!
I was wodering about UltraForge when you asked Kuster about it. Nice model. What does it compare to in size?
Admin




Posts

: 3467


Join date

: 2008-04-16



It's a big model. It's on a 50mm base. I'd say slightly larger than a shaggoth.
From a purely Warhammer lore and history perspective, it looks good. Pustules, reaping scythe, open sores, searching tongue, bloated body, etc. All those things fit the bill. There is one thing that doesn't sit right though... it's those cloven feet. He ends up looking like he'll prance onto the battlefield out of some giant oozing pus-hole!



Posts

: 258


Join date

: 2008-07-06


Age

: 46


Location

: Edmonton



I don't mind the cloven hooves as the entire thing reminds me of an upright diseased bull.

The legs that company uses are actually generic and used for their current Khorne, Slaanesh and the nurgle guy. I like 'em just fine on the Khorne and Nurgle incarnations, not so much the slanneshi demon. I just like that for once it's a nurgle demon that looks like it might whip some ass instead of the fat dude sitting in a chair.

---
Permissions in this forum:
You
cannot
reply to topics in this forum