Does anyone magnetically base their armies? I've seen a few opponents eyeing my troops so I thought I'd share how I did it, and what I'm thinking of doing to impove on it.
I've always wanted magnetic bases, but I never thought about actually doing it until a few minis I bought on eBay have have poly sheet magents on their bases. I hadn't thought of using that, and it seemed to work pretty well so I went for it...
Here's everything I used: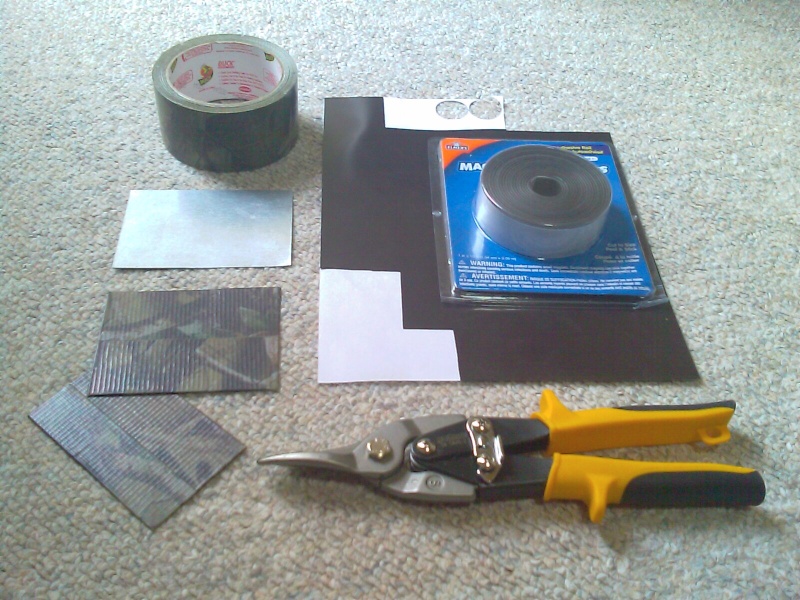 You can buy sheet a roll poly magnets at Walmart, 2 x 8.5" x 11" sheets or a 10' x 1" roll for $7 each. The 1" roll is thicker and a stronger magnet. Both have an adhesive back. Better for 20 mm and 25 mm bases, will even reasonably secure metal minis. The sheet is good for 40 - 50 mm bases. It's weaker, but the larger area still give a good hold.
This stuff cuts really easy with a knife. I just stuck the minis to it and trimmed around them. Unfortunately the 1" is 0.4 mm to wide so you really do need to trim 2 sides to get your unit to sit together right.
This works, but the adhesive isn't great. It's not uncommon for the mini to come off the magnet and magnet to stay on the plate when you pull them off. I've tried a drop of CA glues on the magnet before I put the mini down and I haven't have one of these come off... yet.
I bought a 12" x 24" sheet of 28 gauge steel from Canadian Tire for $8, I'm sure you can get this for a much better price elsewhere.
I had some sheet metal shears that cut the steel no problem. They do warp it a bit and you have to fiddle to flatten it after. If you have a set of left and right handed shears you could minimize the bend, but I just had this one pair. I've read some site that talked about scoring the sheet metal with a knife and then bending to snap it clean, but that seemed like a LOT of work to me.
To pretty it up and hide the rough edges I then covered the plates in camo duct tape (Walmart used to have thes, but not any more. I think somewhere like Wholesale Sports would though.)
I've asked a mechine shop that does waterjet cutting for a quote to get some plates cut right, maybe even thinker with nicely rounded corners. I'm guessing it would only be a $1 a piece or so from past experience... we'll see.
I'm also thinking of ordering some little rare earth magnets to epoxy inside the bases, this would be sleeker, easier and likely stronger. I'll have to see how cheap I can get them, since the roll is only $0.06 a figure.
If anyone's interested in going in on an order of base plate or magnets, let me know.



Posts

: 182


Join date

: 2010-04-25



Looks good so far. I used pretty much the same product on my DarkElf army but paid probably 3 times as much

stupid lazy internet ordering!
Admin




Posts

: 3629


Join date

: 2008-04-16




---
Permissions in this forum:
You
cannot
reply to topics in this forum