Has anyone here read them, and am I too old to bother? I had a fellow rave on for a half hour about the series and he has me intrigued.

Is it better than Hitchhikers' Guide?
Scott has stated before that its the bomb, don't know myself.
Admin




Posts

: 3470


Join date

: 2008-04-16



Best books EVER! My favorite author by far. I've read almost everything he's written - including his childrens works (The Bromeliad trilogy and Johnny and the Bomb).
Discworld is not childrens fiction - it's irreverent, satirical, intelligent and increadibly entertaining. I couldn't recommend it more highly.
It can be a bit overwhelming to get into, but three books in you'll be sorry that there are only 33 more books left to read.
The thing you
HAVE
to know before you start is that it isn't one series, it's 4 (or 5? or 7?) series all set in one world with a little crossover.
There's the Wizards series featuring the adventures of the hapless failed wizard Rincwind.
There's the City Watch series about the members of the degenerate night watch of the disc's largest city Ankh-Morpork.
There's the Witches series, about the stubborn old witches of the rural areas of the disc
There's the Death series, about, well, death. The Grim Reaper, and his adventures on the discworld.
There's two other little series, more like a few seperate books about different times and places on the disc and the effects of some modern innovation of the discworld.
There's also the Tiffany Aching/Wee Free Men series, which are more juvenile but very funny - the Wee Free men and a race of little blue, um, sort'a Celts? and Tiffany is a young witch that communicates with them.
Here: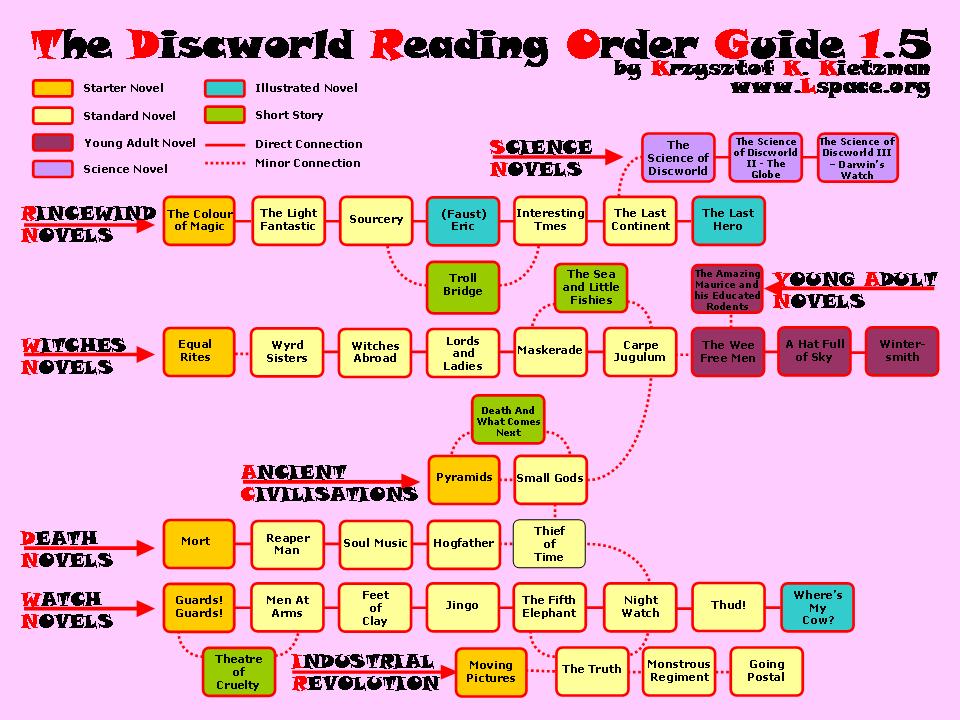 The wizards are where it all began - the first book, The Colour of Magic, is a good place to start. The Wizards series will porbably be your favorite - although I like the City Watch myself (since as a kid I aspired to be a cop...). Once you start, you'll want to read them all.
Pratchett nearly ruined fiction for me. His writing is awesome, is narrative flows like nothing else I've ever read - the action never stop to spend three pages describing someones dress like another author I won't name
*cough*Jordan*cough*,
may he rest in peace.
After reading works that are so well written and seriously funny, I find it hard to read most other fantasy that tries so hard to take itslef seriously that it seems a little... funny.
Wow... I babbled.
Serious, read it.




Posts

: 182


Join date

: 2010-04-25



This is exactly what I was talking about. This fellow went on incessently on how good this series was. I'll tell you one thing though; he sure didn't mention 35+ books!! That may be the single reason NOT to get into the series -- although one would know what he's reading..for the rest of his life.

Well, thanks for the info and I guess I'll try the first and go from there....
squalie wrote:This is exactly what I was talking about.
Yeah, I did come off a bit fanatical...
Keep in mind three things:
1) You don't have to read them all - if you don't like the witches, don't read the witches
2) Every novel is a contained story with a conclusion. One may pick up shortly after the previous left off, but it's a whole new adventure. You won't feel like you have to finish the series to see where it goes (I'm still half way though book 7 of Wheel of Time... some day, maybe).
3) As I mentioned, he doesn't spend 3 pages discribing the lace on some high-born chic's dress, so the novels don't end up being 900 pages long. With a couple excepts (like The Fifth Elephant), they are mostly 200-300 pages.



Posts

: 182


Join date

: 2010-04-25



They're gold Don!

For a fantasy guy it's nice to have some fun intelligent stuff. I agree that the "Watch" books are the best in the series but all are quality. I'd start at the begining and go from there. You will not be dissapointed.



Posts

: 2389


Join date

: 2008-04-18


Age

: 42


Location

: Saskatoon, SK



Yeah, I did come off a bit fanatical...
No, that's ok. That's what got me enthused in the first place. You wrote what he said, so there must be something to this series. I appreciate the response, and especially the chart!

Don't do it Don.

Discworld is just about the lamemest piece of crap writing out there.

Terry whatever his name is can't even use spell check.

You might as well just read the screenplay for Schrek and be done with it.





Kidding by the way...



Posts

: 148


Join date

: 2009-01-21



It's good stuff and you won't regret it. There are a couple of BBC made for TV movies that are worth the time too.



Posts

: 56


Join date

: 2008-04-22




---
Permissions in this forum:
You
cannot
reply to topics in this forum