early work on the armour. Thoughts?
Hey, saw you post on CMON! Good stuff, you and Nathan should be getting tips from the big boys now! One thing I'll say about that place, is that no matter who gives the advice, if it sounds goofy to you, try it out!

I think the metal might be over purple. It depends on what you're gooing for on the rest of the mini but I think I might tone it down some more with black. But that's just a judgement call, nothing wrong with how you did it for sure! I vote for ALWAYS highlighting more, more than you think is neccessary is probably a good point to start. MIthril silver is about right, chainmail first. Thin them the same way you would other paints and apply them like that.

Good stuff!



Posts

: 2389


Join date

: 2008-04-18


Age

: 42


Location

: Saskatoon, SK



Yep, I'm enjoying spending some extra time on a fig for a change instead of just "knocking em out".
Another quick update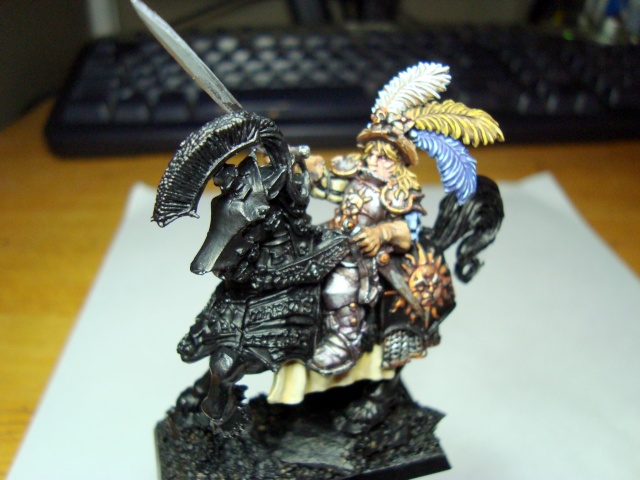 Managed to get a bit more work done here. Kind of divided on the armour's scroll work, not exactly sure where to go with it. I also need to figure out some form of crest for the armour plate on the horses head, or even if I should attempt it. Thought?
It's looking strong so far. Freehand onthe horse's helmet? I hate doing freehand, so I wouldn't. But if you're thinking of it may as well! Your freehand is much better than mine, so it is worth consideration.

Scroll work looks fine, but I still think you could do a bit more highlights in spots. Not using white, but a color I liek is P3 Menoth white highlight. Or VMC Ivory. A step in between bleached bone and white. I'd use it on the parts fo the feathers you've already highlighted, but only kinda in the middle of them for a hot spot sort of highlight.

Very nice, and the best thing you've done by far!



Posts

: 2389


Join date

: 2008-04-18


Age

: 42


Location

: Saskatoon, SK



Very nice indeed Carson. Your freehand is certainly good enough for the helmet, but I don't have any ideas. Talk about the complete opposite of a Chaos army!



Posts

: 4317


Join date

: 2008-06-05


Location

: Moose Jaw



That Ivory sounds good, have to try it.

He's so righteous looking isn't he? No evilness there.
My general finished up.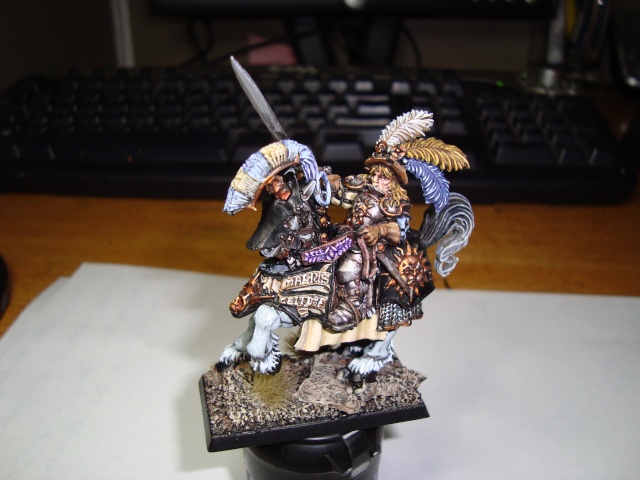 that is stunning




Posts

: 147


Join date

: 2009-03-24


Age

: 22



Carson, my friend, do some edging or highlighting on that black and that is your best work yet...or you have a really good camera!

Seriously that is the coolest, faggiest thing I have seen in a long while. Can't wait to killing blow that model.
Did that sound gay or what?




Posts

: 4317


Join date

: 2008-06-05


Location

: Moose Jaw






Posts

: 147


Join date

: 2009-03-24


Age

: 22




---
Permissions in this forum:
You
cannot
reply to topics in this forum