Hey guys! Painting a goblin army is a pretty daunting task. Fortunately I've been playing another fantasy game lately called Hordes of the Things and it uses groups of models on 60mmX40mm bases. So I thought I could paint up some goblins for that game, and still use them for WFB. I'd only need a few loose ones at the back that could represent casualties. So without further ado, here are a few shots of my HoTT/WFB army: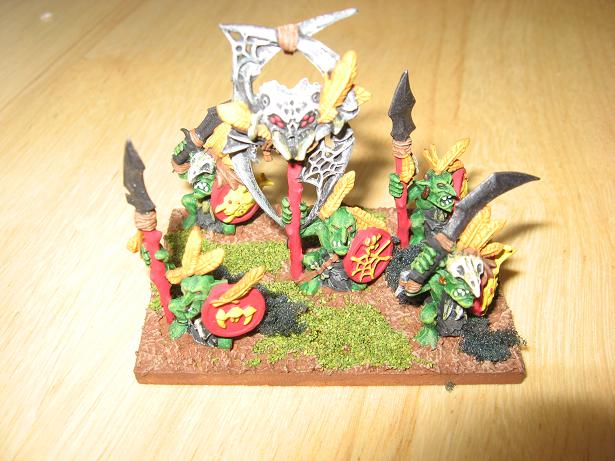 Forest Goblin ambush party! Or a unit of Lurkers in HoTT.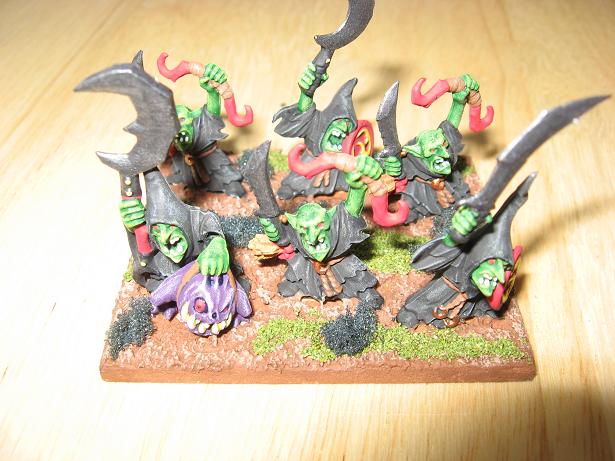 Goblin warband in HoTT. My spears will be in a similar formation, 3 in front and 3 in back. Command groups will be easy enough. I will have a netter, stick and drum in the front row and 3 spears in the back. I'll mount the Champion singly so he can be removed.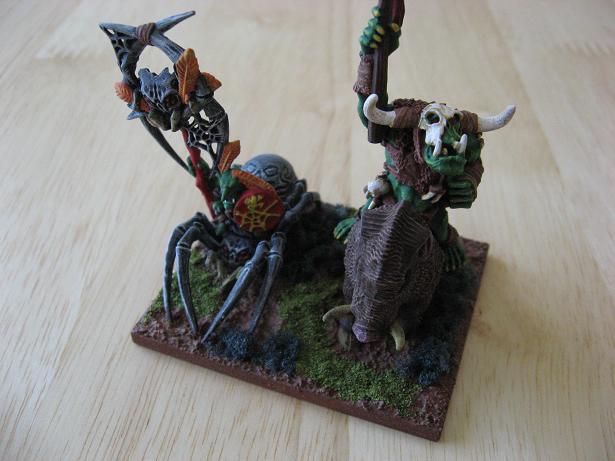 This will be either a Hero or a Rider General in HoTT. Unfortunately, because the cavalry in HoTT also have a 60mm frontage they don't translate quite as well into WFB.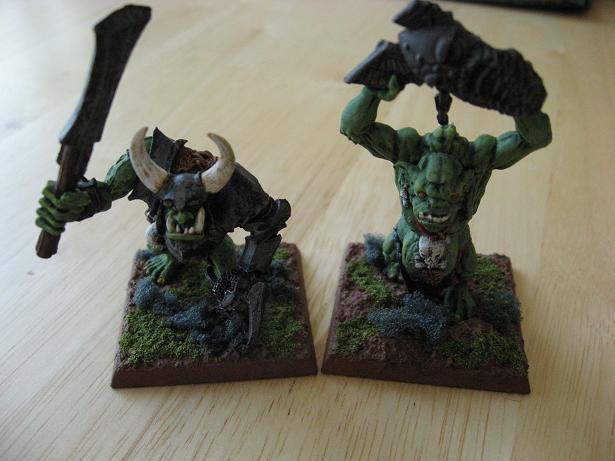 Da big boys! Eventually, there will be 10 of these guys. I designed a larger base that the 40X40s will slot into so I can use these dudes for either game.
Unridden spiders which serve as Beasts in HoTT. These (and the one accompanying the boarboy) should give you an idea of what my spider riders will look like. I'm all about the Scott Radom spider rider tech!
Well it's good to see you painting, but Hordes of the things? You got roped in by yet ANOTHER flash in the pan Brown-town game didn't you? When you're done your army you can always put in on the shelf next to your AK-47 republic army at least.

The basing thing is gonna bug you when you play warhammer. Little shit like putting characters in the front rank, reforming to a better frontage to take advantage of terrain and full ranks etc. Way back in the day I made big use of the gw regiment bases. They're cool for archers in single file, but always seemed to cause a problem when playing, even the goblins.

But good to see you painting anything my friend! I just think you would have been better off basing for warhammer so you would have the more often played game system ready for use and if you lose the bug for your army or the game it's easier to sell a warhammer army then a HOTT army. Dummy!
yeah its good to have you aboard here Tim. I've never heard of hordes before though.
Admin




Posts

: 3443


Join date

: 2008-04-16



Wow Scott. Could your response be any more predictable? Seriously though, the only units that are on bigger bases are my goblin infantry and those units will have 12-15 loose infantry each. I will be able to adopt any formation I please except single or double file. Don came up huge with 2 more trolls for me

I think I only need 2 more for my unit. Come on fellas! I'd be willing to trade for an old metal one or two if they're out there to give the unit a little variety.
YOU'RE PREDICTABLE!

I'm tellin' yah, I did the same thing and it always became an issue for me. Every time you need to move a champion or have a character join a unit, or move within the unit, it became an issue.

And you should know that I will openly mock your thriftyness whenever I am able, and the beautiful thing about the internet and my new found extra time is that I can go 24/7.

But I am glad to see you up and painting. It's a hoot! Spider riders will amaze you in how good they actually are in game terms. They're the bomb!
And you should know that I will openly mock your thriftyness whenever I am able, and the beautiful thing about the internet and my new found extra time is that I can go 24/7.
What happened, did you quit your job to paint full time?! Seriously though, you're not sick again are you?
Tim, did you need any bits for these Trolls? I have a few OK hands and weapons, maybe some other stuff laying around also. Let me know.



Posts

: 4298


Join date

: 2008-06-05


Location

: Moose Jaw



No I'm okay. Just feels GREAT to go from 60 hrs to 40 hrs a week. I feel like I work part time!
Don, if you have a couple suitable large-sized hand weapons (+ hands, I suppose) that would be cool. Then my trolls all won't be swinging some goofy Dwarf statue.
Tim I've got a Troll for ya, its painted though.
Admin




Posts

: 3443


Join date

: 2008-04-16




---
Permissions in this forum:
You
cannot
reply to topics in this forum