Now THIS is how you start a Dark Elf army boys! All NiB! Paint, Basing Materials all shipped right to my door. I literally went on my iPad bought the "How To Paint Dark Elves" book and ordered every single paint they used 100% exactly. Think I'm going to try a sandy barren rock job on my bases.... I also got 30 Black Guard, a Raptor Chariot and another box of Repeater Crossbowmen still coming!!! But they won't be here until Monday or Tuesday and i wanted to get started this weekend!! Now i was going to keep this army a secret until it was finished but lets face it... I'm an over excited loud mouth

super excited for this army, sexy Corsairs, black guard and a friggen DRAGON BITCHES !!!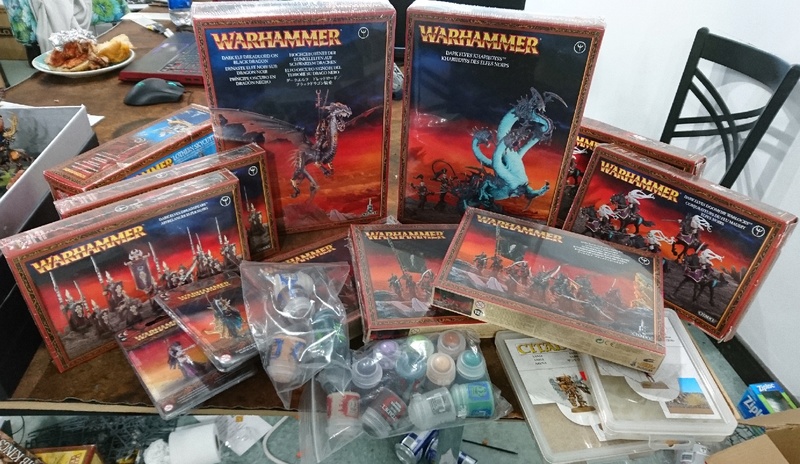 Posts

: 2787


Join date

: 2013-04-07


Age

: 29


Location

: Moose Jaw



Cool! I've got a tonne of bits if you need extras of anything. Including some whole corsair sprues.



Posts

: 5498


Join date

: 2008-06-10


Age

: 37


Location

: Saskatoon



I'll take the kraken, how much you asking? willing to part or are you selling the whole thing in one go?

_________________
What is best in life?
Crush your enemies, see them driven before you, and hear the lamentations of thier women.
Admin




Posts

: 3581


Join date

: 2008-04-16



Carson wrote:I'll take the kraken, how much you asking? willing to part or are you selling the whole thing in one go?
$90 and its all yours bud!!!! But seriously bud this is Project Blogs not Buy Sell or Trade jeez cant just start making random offers on peoples ARMIES! Kids these days amirite? Just remember buddy i love you like the brother i never wanted

These are my New NEW Dark Elves, I have already sold the Dark Elves i bought off frank (at a loss) about 24 hours after i got them. haha. This will be my 3rd Dark Elf Army haha!
On that note... basing scheme... ok... so last night i took every single 20mm base out of their boxes AND NOTHING ELSE (all 70 of them) and magnetized them all because i was thinking of basing them before i do anything else with the army. but then i got thinking how do i build and prime the figs then? Build and prime them off base then attach to base afterwards? I'm going with the GW Sand and bushes in the picture with small chunks of pure black volcanic rock i think work to reward ratio will be good for this...
Side Note fml elves are TINY and fiddly to build (i built my fleetmaster)



Posts

: 2787


Join date

: 2013-04-07


Age

: 29


Location

: Moose Jaw




---
Permissions in this forum:
You
cannot
reply to topics in this forum