So i've been slowly picking at my Space Marines because im really enjoying the change of pace from fantasy. Going to slowly keep track of this stuff here. Im going with a generic green Dark Angel theme, nothing crazy.
So this is a conversion i started, wanted to try and turn the AoS Prosecutors into some Dark Angel Assault Marines. Now i have no idea whats legal or even allowed conversion wise in 40k but i mean its on the right base size and ive seen other people modeling regular jetpack marines high up on stuff... This conversion was alot of fun and is turning out very well so far. Now these pictures arnt even close to done yet but i was enjoying it so much i wanted to post my progress so far. The wings are a little... blue, im going to go over the high points again with Scar White hopefully that will stick. Pics kind of suck and i still have a ton of highlighting to do and stuff but i think its turning out well so far. one unit of 5 is all im going to tackle.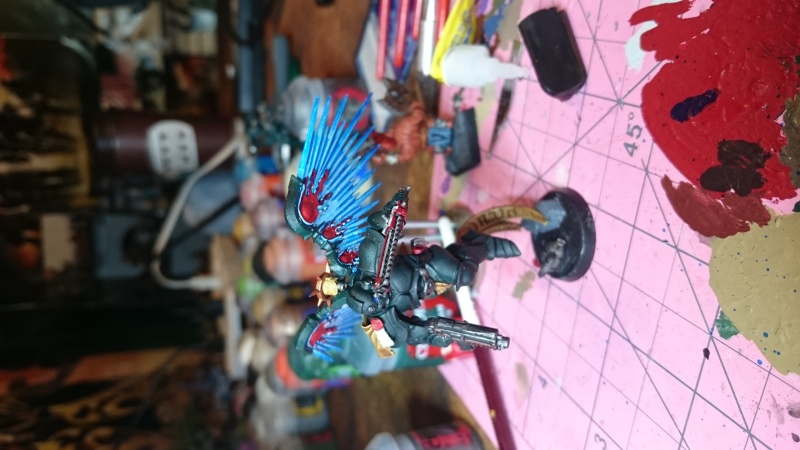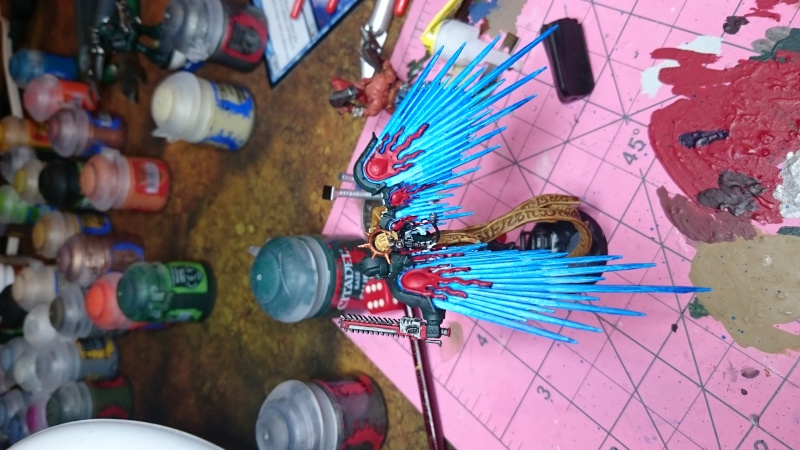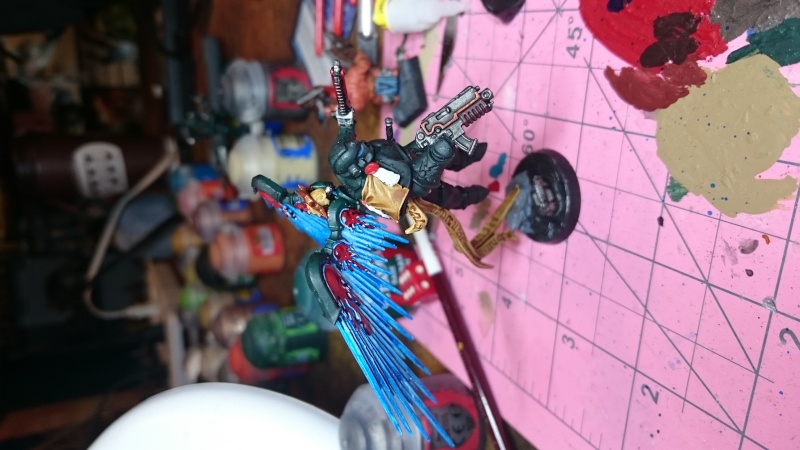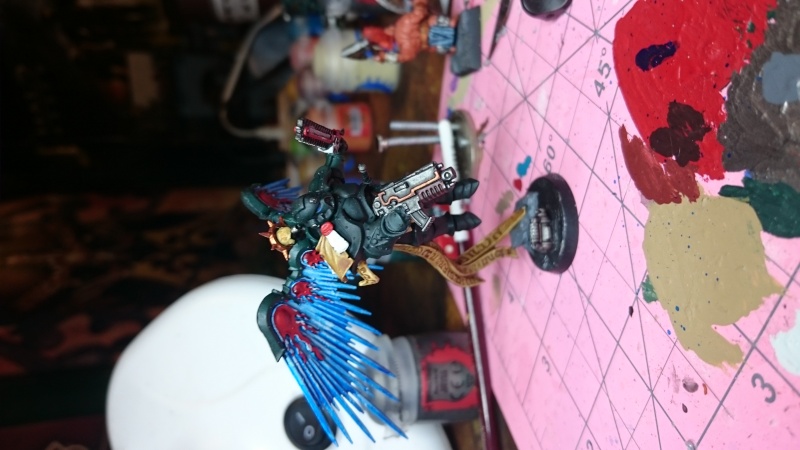 *sigh* i have no idea why they are rotated... well let me know what you think anyways haha.
You have a good start here, that base looks tiny!

Wherever you store these pics (photobucket, etc) is where you can rotate the pictures.



Posts

: 4476


Join date

: 2008-06-05


Location

: Moose Jaw



It does look good, I like the conversion. It works really well and it looks like it is meant to be.

Everything is neatly done so far paint-wise. Everything could use some highlighting to give it a bit more depth. The wings as you say could be hit with white, leaving the blue in the recesses. The red could be highlighted with red mixed with a flesh-tone so it gets lighter but doesn't go pink and shaded as well. I would try to do those wing joints that you have in red like big jewels. The parchments could use a white or lighter bone-colour as well. The black armour is tricky but either try some edge highlighting or pick out some details in the armour to paint with a contrasting colour like white, red, blue, or silver to tie it in with the rest of the mini.

Nice job Sean!



Posts

: 5575


Join date

: 2008-06-10


Age

: 37


Location

: Saskatoon



@ Don - Thanks! yeah that is only a 25mm base cuz thats what Assault marines are on. the Prosecturos are on 40mm i think. Altho it honestly does work and i put a penny on the bottom so it rly doesnt tip over more then any other model would. I just uploaded them using the little button in the post. servimg or w/e its called.

@ Nathan - Thanks! im really loving how it turned out so far and yes i know it needs a TON of highlighting still, i just really wanted to show it off and the paint was drying so i had to be patient anyways haha. I'm really hoping the white turns out on the wings, i think im literally JUST going to do the highest ridge on the wings white. I am not a brave enough man to mix paints so im just going to try a wash on the red and then a highlight with a lighter red. What do you mean by the wing joints? Also where do you see black armour? :S he is supose to be green haha. (again not done highlighting)

Super thanks for the advice / critiques i will post a finished pic soon hopefully.


I think all space marines are on at least 32mm bases now. Practise with highlighting and your on your way with painting


_________________
What is best in life?
Crush your enemies, see them driven before you, and hear the lamentations of thier women.
Admin




Posts

: 3629


Join date

: 2008-04-16




---
Permissions in this forum:
You
cannot
reply to topics in this forum