Decided the other night that Ogres weren't really doing it for me, lucky for me I had a whole bunch of DE stuff bran new waiting to be put together and painted. I have decided to focus on a 1500 point army list first, get a good start on it then slowly add from there. Reason is I really don't like to play with a lot of unpainted stuff, especially unprimed, it really just bugs me. I have 10 corsairs almost all finished, with a war hydra on deck and some black guard in the hole. I'll try and post up some pics tonight of the corsairs as I kind of need a little advice on how to finish them. For now, you can all wait with baited breath.
*Sits waiting with baited breath*

Good to see you keeping the momentum up!
So here is one almost done fig. I can't decide if there should be another accent colour or not, hit me with some suggestions.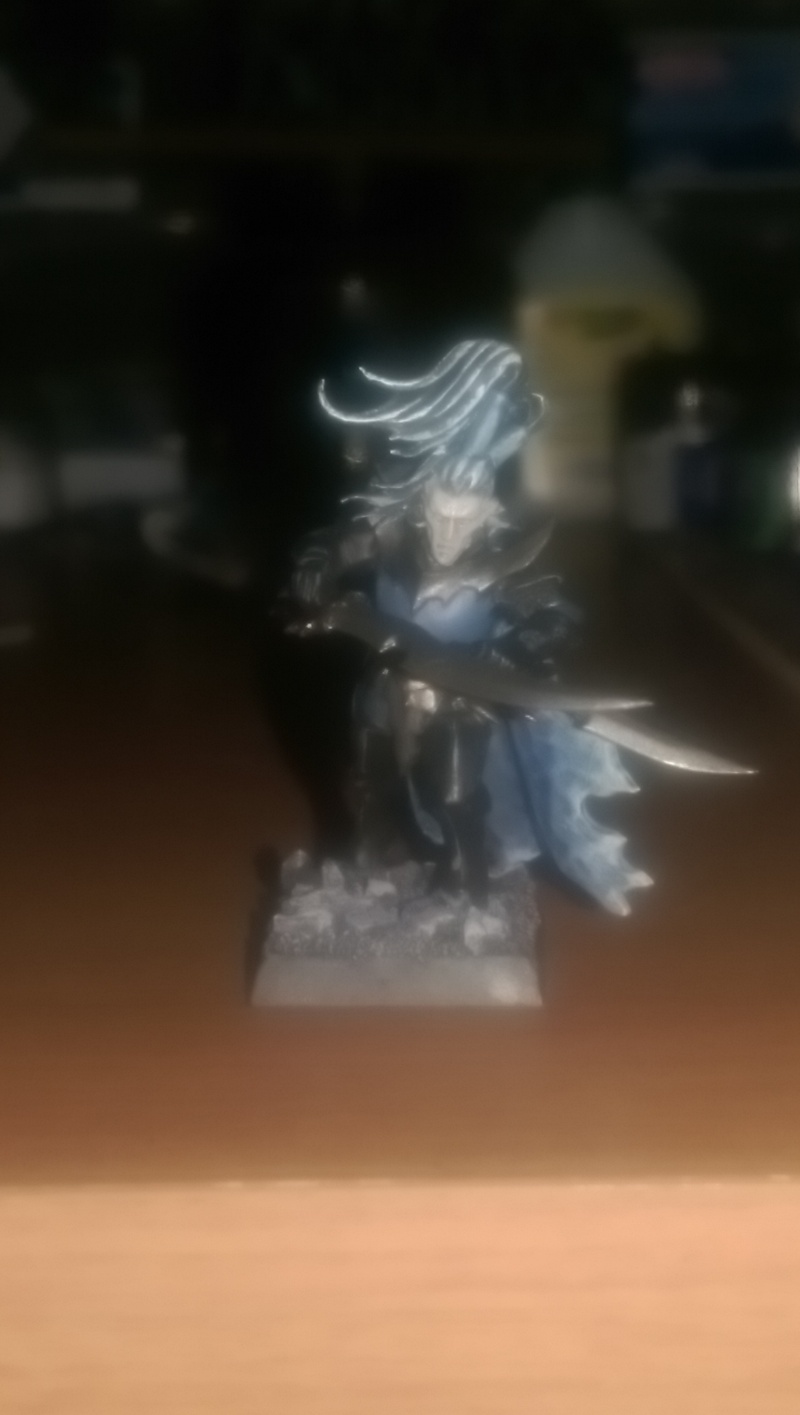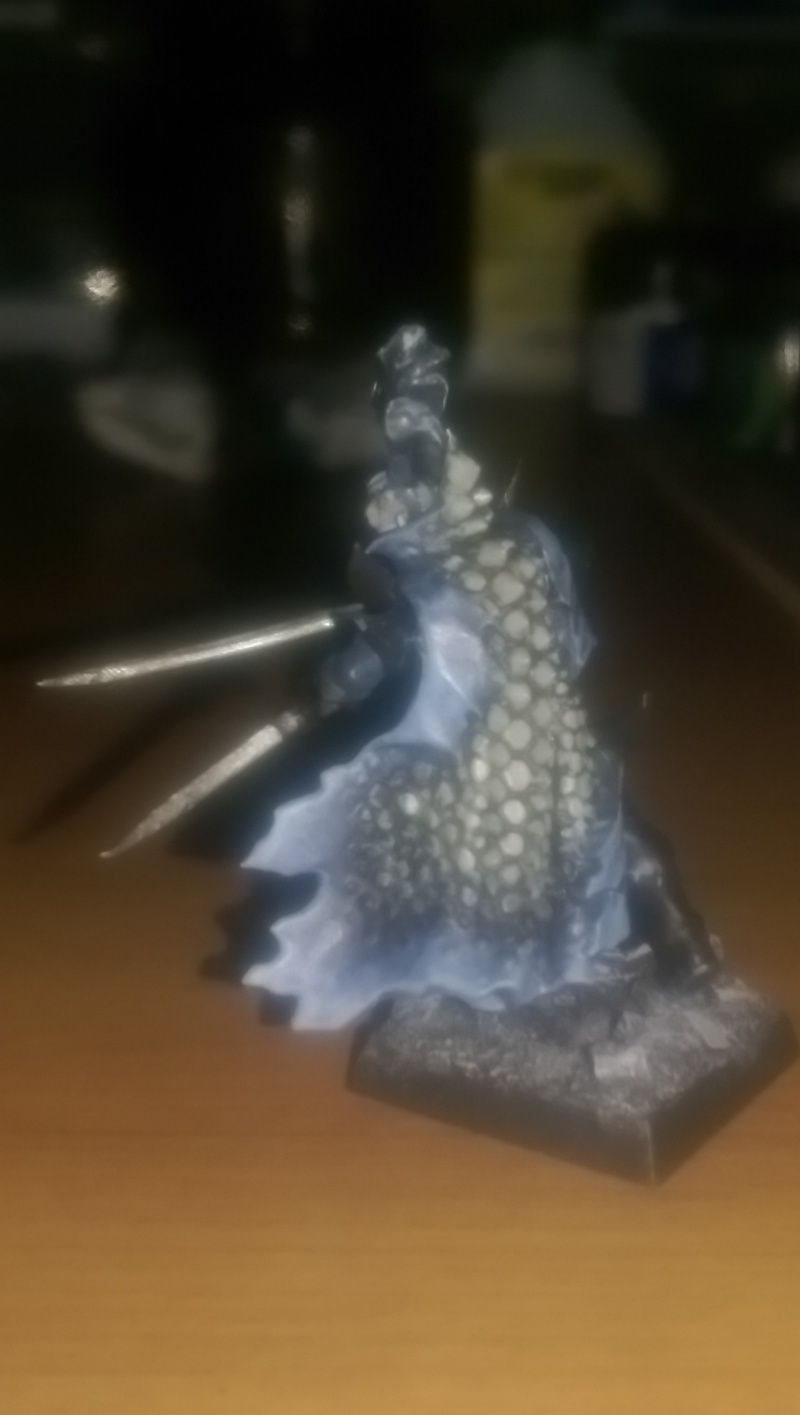 A unit painted like that will look really slick. I'd suggest painting a warm color such as red on the banner or champion. Just a small bit like a sash or something and it'll really pop. If you add another color to all the models I think it'll just look busy.



Posts

: 5402


Join date

: 2008-06-10


Age

: 36


Location

: Saskatoon



I like the cool colour scheme but those darn pictures aren't helping. The basing is perfect, maybe some of the dead grass tufts here and there and you're set! A DE army would look great like this.
I'd leave the unit proper like this without any additional accent. As suggest a warm red or purple on important things like banners and champions will further set them apart. Those pics remind me of the early days of film and the vasoline cam!



Posts

: 2389


Join date

: 2008-04-18


Age

: 42


Location

: Saskatoon, SK



Great suggestions. Will post the complete 10 when they're ready.
Here is a photo of almost finished corsairs, just have little highlights here and there left.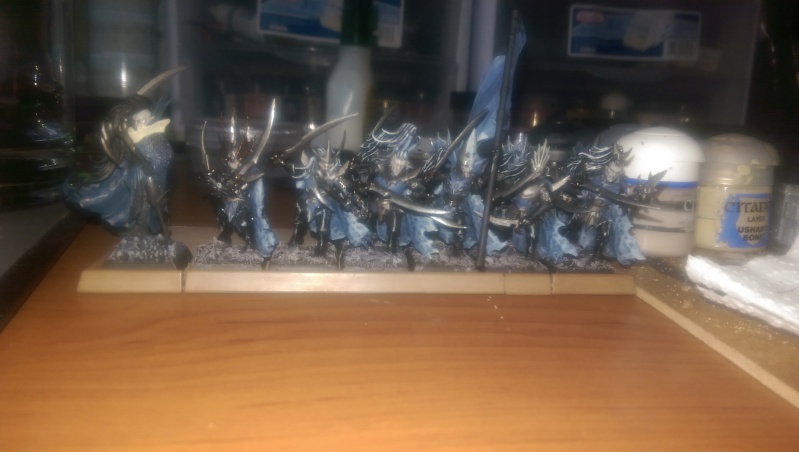 And the Hydra. Still need to do some basing but the majority is finished.
Make the eyes brighter! Even mix some light yellow into the red so the eyes really stand out. If you like, should make for a real focal point of the mini! Nice work.



Posts

: 2389


Join date

: 2008-04-18


Age

: 42


Location

: Saskatoon, SK



I agree with Scott's suggestion. I'd even go so far as to suggest that you paint the scales in a light bone color similar to the skin of your elves.

And you've got to do something about the pictures! I don't know what you're doing to your camera but it looks like you need to clean the lens.



Posts

: 5402


Join date

: 2008-06-10


Age

: 36


Location

: Saskatoon



I kinda like the pictures, reminds me of my family photo album from the 70's.

Great to see you working on the army Nathan!

---
Permissions in this forum:
You
cannot
reply to topics in this forum