Page 2 of 2 •

1, 2

squalie wrote:Lance, of course you're invited and anyone else feeling the itch.
Thanks!
Speaking of Sunday - I faced off against Jace with his UAR list (CC) so that he could see how well it performs versus CV IDF (I borrowed Brody's).
We rolled up Encounter (probably the worst mission for Brody's IDF = he has 4 platoons) but probably one of the best for Jace's UAR. Jace rolled up as the attacker and placed his 18 stand artillery of 155s down across the back of the table. I responded with a platoon of halftracked infantry on to his objective on my side of the table - my objective on my side I deployed some IShermans nearby. He left my objective on his side open - daring me to take it while the artillery had his locked tightly up.
Being down first I had first turn - lovely -> reduced shots, no jets, & I will be facing his artillery on turn 1. With no way I can barrel my way through a platoon of 8 IS3s or 11 T34-85s and with reduced shots facing a massive steel wall I wasn't going to be able to shoot through it either. I used my IShermans to target the nearby artillery (32" away) managing to hit and kill two (love Breakthrough guns) with my IShermans. Meanwhile, my IC & 2IC blasted away at the company of T34-85s killing one and bailing another. The IDF just doesn't put out enough shots.
Jace advanced with both his T34-84s and his slower IS3s. His Mig17 was unable to range in because of my IShermans were hiding in the trees. Whew!
Turn two brought my plane in needing to neutralize his artillery I sent it over to napalm the 155s. Meanwhile, I blasted away at his T34-85s with my British semi-indirect fire training killing another two and bailing one. Back to the plane I had my doubts on napalm usage (needing 6's to hit but with two plane dice I did get 3 jets in = rerolls misses). I scored a total of four hits out of ten possible - I will take it. Jace had taken a flamethrower/plane bomb hit! Yes! For turn two Jace did not roll for motivation and again advanced with his T34-84s but since I had failed my Few Against Many (Stormtrooper) he paused with his IS3s scoring three hits (2 kills and a bail) for which I promptly failed my platoon morale check. The objective now lay open. He again repeat bombarded my 1IC & 2IC with several infantry. Luckily no hits were scored. Darn Conscripts!
Turn three and at half strength I needed reinforcements! Luckily I rolled in my Sho'ts; with stabilizers and AT18 they completely finished off the T34's which the 1IC and 2IC IShermans had been working on. Turn 3 for Jace had no reinforcements, no motivation check, and again saw the continued bombardment of my position. This time he blasted my 2IC and one of my Sho'ts!
Turn four had no love for me - no reinforcements and no jets. I had to move my lonely Sho't (armour:12/8/2) closer to the objective figuring it would at least be able to make a save versus my lonely 1IC ISherman (armour:7/5/1). Turn four for Jace brought in a tank platoon of more T34-85s and his Mig17. His IS3s and Mig17 went after my Sho't and with that much firepower I eventually flubbed one of my rolls resulting in the loss of my Sho't platoon.
Turn five brought in my Magach 2s which were ineffective against the IS3s and my single jet which was pretty ineffective against the shiny new T34-85s. Turn five for Jace moved his IS3s up and his new T3485s up even closer. I think about this time Jace noticed the one objective on my side was still in the open and clear of my forces.
Turn six I began to move my Magach 2s over to cover the far objective - I would need to make two Few Against many rolls or the game would be over - not to mention also avoiding IS3 firepower! Jace was just getting a platoon in no matter what now but still rolled and still got his single infantry platoon/company in. Luckily he only pinged me a couple times with his AT15 IS3s' guns which I luckily saved away.
Turn seven allowed me to get my Magach 2s over to contest the objective and get some cover from a fiels and a burning Sho't. Turn seven also brought Jace's T34-85s in to contest the objective. Now it was just amount of time and sheer volume of fire.
The UAR emerged victorious and the IDF left as a smoking smear on the field of battle.
I played against Steve Beauchamps Americans on Saturday morning and everything I've read about certain American lists were true.
I brought My Soviet Rota Razvedki and got totally destroyed. The "double tank destroyers with Priests" made pretty short work of all my tanks. He brought 2 Platoons of Tank Destroyers into view and they all got 2 shots each at AT13. 16 shots, hitting trained tanks make a lot of dead tanks. I had fun even though it was very one-sided but I became very mindful of how not to deploy and simply rush forward. Friggin tactics, gets me every time!!




Posts

: 4318


Join date

: 2008-06-05


Location

: Moose Jaw



Operation Moked
June 4, 2016
By Lance Mathew

Another successful mega game known as Total War for Flames of War transpired at Tramp's Comics and Games on June 4th, 2016. This event was entitled Operation Moked [Hebrew for Focus]. Historically, the Operation Moked was actually the massive air operation launched by the IDF (Isreali Defense Force) against the UAR (United Arab Republic) and its allies. We were more concerned with the land operations (Red Sheet) but the planes played a huge part in every turn we played.

Prior to the game I reviewed the Total War Rules (found in the Normandy Battles book) and I discovered years ago we had made alternations to the scenario. In the mission it calls for a total of six objectives; two on either end and two in the middle – we play with minimum of nine; three on either side and three in the middle. Also, the scenario states that it uses both reserves (you deploy half your force) and you deploy your entire force – we almost always use reserves. We also use team captains to organize and make overall plans.

With the IDF as the attacker Matt (UAR), Jace (UAR, and myself (Jordanians) deployed half on the table. Each of us had brought artillery and it was our first choice to put down. Matt put down his twelve 155 heavy gun battery (double wide template rerolling misses), Jace took even more time placing his eighteen 155 heavy gun battery, and I quickly put down my three pop-gun 25 pounders. Matt placed his impressive nine IS-3 tank company down, Jace also placed his eight IS-3s on the table, and I put down three Centurions. More units were added to the fray but looking at my Arab allies I was surely outmatched in terms of quantity. And, I knew the IDF team would be even more outnumbered.

Now the IDF deployed seeing where the defending Arab nation's troops were. Brody (IDF IShermans) choose to oppose Jace, Chris (IDF Jeeps) as the team captain opposed Matt (our team captain) in the middle, and Kyle (IDF Magach 3) opposed me. Now at this point things began to falter. Brody suggested a night attack. Now, in hindsight I am not sure this was or was not a good idea. The fact was it allowed troops to move into their positions unopposed changed the course of the game and in my honest opinion increased the time of the entire game. Now, that being said the IDF was able to escape three turns of Matt's and Jace's large artillery templates but they were also unable to take advantage of their 40" tank gun ranges. Also, in my opinion the planes (jets) were a wash as both the IDF and UAR had planes; although Kyle had a Mirage which is rated as supersonic and could not be intercepted by the slower MIG-17.

The game flowed back and forth as large games due with multitudes of loses - most of them being the conscript Arabs. However, whenever a tactical error occurred the Arab nations capitalized on it. One of Kyle three Magachs became bogged down right in front of my infantry , I proceeded to offer covering fire bailing the other two and charged in with the afore mentioned infantry! Three tanks gone on one turn was a bitter pill to swallow for the IDF. Also, Kyle choose to attack with his paratroopers into Jace's infantry; personally and historically they would have been better served going after Jace's large gun park. Jace scored some lucky hits and was able to break off with most of his infantry; which pulled Kyle in after them. The nearby objective was never in any danger. Speaking of tactics of mistake and objectives – Brody had failed to leave any troops near hos objective and thus not a single point was scored for two turns on his table for the IDF. This lead would allow the Arab nations to pull ahead and was never recovered. Chris was hard pressed in the centre by Matt but the UAR was not without its own tactics of mistake when Matt doubled his IS-3s forward! Chris with his platoon of four Sho'ts (up-gunned Centurions) gave no mercy - cracked the whip and broke Matt's IS-3 tank company.

Quite the game and day – have already set the plans in motion for next year's Operation Red Sheet! Think we will need even more table space plus of course - more players! Our next event is Michael's Veitnam Demo on June 16th! And, our next tournament is D.G.A.T. (David's Going Away Tournament) on July 23rd! Come down and check out the action or better yet – join in!

First Wednesday of Every Month
June, 1st 2016
By Lance Mathew

AIW (Arab Israeli Wars) is in my opinion the quickest and most lethal era for Flames of War – although I still have yet to try TY Team Yankee aka WWIII). The equipment is post WWII or almost modern making things very quick and deadly!

Both Jace and Kyle showed up for the demo. Jace and I had played a couple days before and now Kyle wanted to try out his list. So, with no new players to try to recruit - Kyle and I had a tank duel! We rolled up Pincer and Kyle was all in while I had reserves and was half off and half off with my forces. Kyle charged forth in the open with Isreali halftracks – a perfect shot for my ambushing recoilless rifle jeeps! The game was pretty much Kyle's to win but halfway he stopped to sho't me up instead of pressing his attack – allowing my pincer to arrive. Once I started getting my reserves it was only a matter of time. And, we called it a Jordanian victory!

"May 29th, 2016
Jace Pippin
This was my first time running a demo and I am pleased to say that I am ready to do even more. I had recently had been contacted through a friend who plays other games that he had a named Jason who's son Alex was interested in Flames of War and would like to do some demos, I quickly contacted them and set one up.
Since they were just starting the game I set up a quick 1000 points late war game that pitted Alex with the Americans vs. Jason with the German Reich, to keep it simple we used only tanks and played the mission Free for All. The game started with Alex getting the first turn, which he used very well to his advantage by sending his Sherman 76's around the right flank of the hill as well as hold the left with a platoon of Perishings. The end of the turn left 3 bailed Panzer IV's and a dead platoon of 2 Jagdpanzer IV/70's! Jason, not to be defeated, remounted his Panzer IV's and threw them over the hill at the Shermans and completely missed. To make matters worse he failed his storm trooper move and his Panzer IV's were then left in burning wrecks! At this point Jason was down 2 platoons out of 3 and had to start taking company morale checks, which on the next turn he failed and fled.
I was very surprised at how quickly Jason and Alex caught onto the rules of the game and how much they already knew. They both had lots of fun playing this game and we have set up another demo for the end of June this time adding in infantry to the game!"

Tried Levi's Strelkovy 2k list on Saturday verus Sean's Ram'd Canadian infantry - NO RETREAT!
Sean chose to defend with his Canucks allowing the Soviet's to infiltrate 16" closer to the forward objective! Then having first turn I marched up another 6" suffered a bombardment and a pile of MG shots. On turn two the Soviets moved into assault range and assaulted! Sean wisely choose to break off and I consolidated the horde.
Meanwhile, I doubled up the 2nd infantry company and suffered double the ROF...losing five teams

During the course of the three turns of the game I lost all the SU122s and most of the OT-34/85s but won the game 5-2!
Strelkovy are nasty and I think I have tweaked the list for the better!
I haven't ever filled these out but I do have pictures of most games I have played.

June 12th Played Desperate Measures Panzer Company vs Assault Gun Company

Desperate Measures CV
HQ 2x Panzer IV J
3x Panzer IV J
2x Panzer IV J
5x T34 x1 upgraded to 85mm
3x Panzer II Luch
3x Nebelwerfer
Rudel Warrior Stuka-limted


vs Tim
HQ T70
4xSU122
4xSU122
10x OT Flame T34 85
3x IS85
9x stand recce with BA64
2x 85mm AA guns

I rolled to defend in Breakthrough though I generally build a Tank company anticipating I will attack. 2x Platoons on the table and no Kampfgrupppe. Started with All the Panzer IVs on the table He started with Recce infantry, IS85 and 85mm AA guns.
I mostly had to manuver and stay out of the way as the IS85s advanced. Air showed up but missed. T34s showed up in rear and tried to destroy the 85mm to no avail. 85mm killed 2x T34(one being the /85mm) and the IS85s started to come back to support. T34s and Panzer luchs were around to harass the infantry recce. Flame OT85s showed up and missed their shots. More reserves started coming on , SU122 and OT34s took out a couple panzers. Rudel almost never showed up but when he did he missed. I think 3 times in the game total from Limited(5x) dice. With the IS85 defending I couldn't really do much damage but his infantry did fail a moral check eventually. I was down to 1 panzer IV in the woods vs overwhelming firepower of around 4 su122 and 10 OT34 85. He bogged down near the objective and that was game. His Tanks were already surrounding the woods and I was close to having to do a Company morale check soon without a 1ic or 2ic.

I did make a significant mistake in that Rudel can hit the same Tank twice in a given platoon so that could have changed things quite a bit. I could have plausibly killed the platoon Leader for the IS85s stalling their advance and I could have got a SU122 near the end which could have given me a 4:3 loss vs a 5:2 loss



Posts

: 110


Join date

: 2015-08-10



About turn 4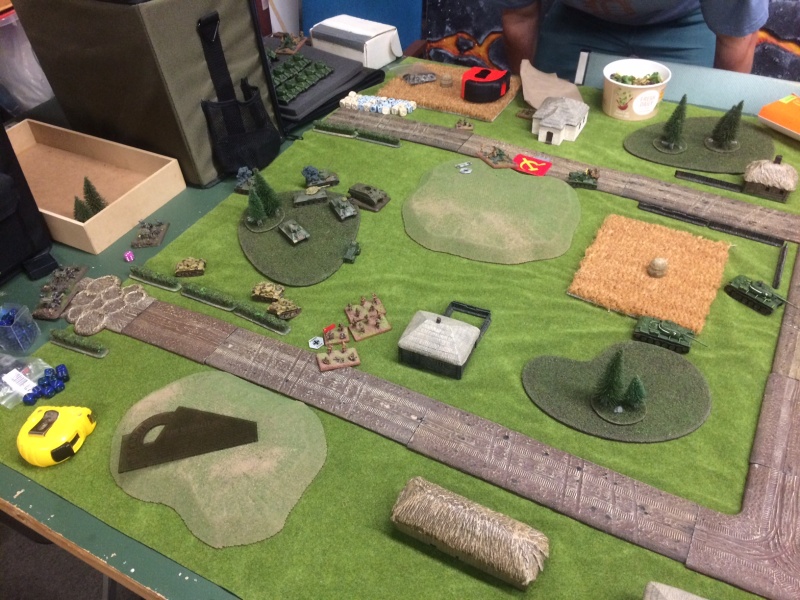 About turn 8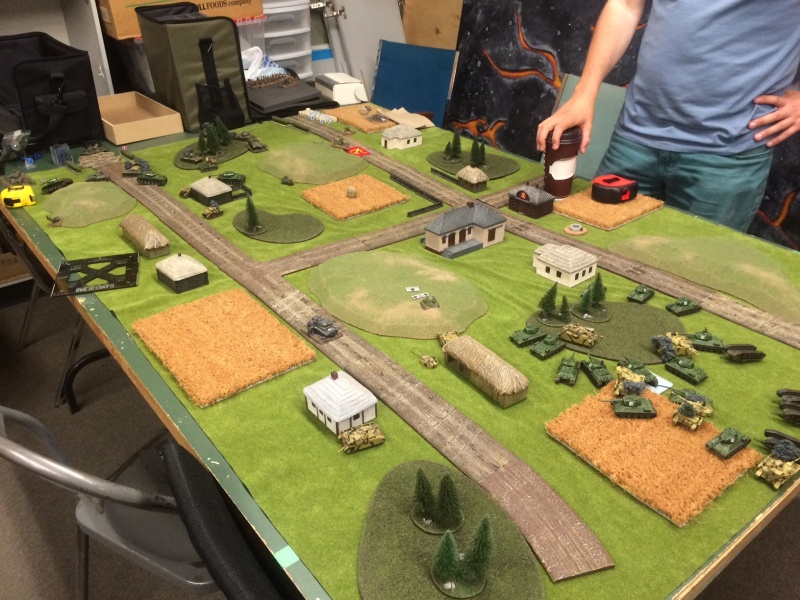 Posts

: 110


Join date

: 2015-08-10



Michael's Tour of Duty Demo
June 16th, 2016
By Lance Mathew

Michael, while on his trip to Japan, contacted me that when he got back he wanted to get into the Vietnam era of Flames of War. Michael and I set up a night and let Tramp's know that we would be invading the store for that evening. I contacted our local group of 'Nam to bring 1,000 points lists for the evening. Everyone was excited to head back in the jungle!

Michael chose the Assault Boats from the Brown Water Navy Book, Chris brought his Chuppas, and I assembled my ANZAC. Meanwhile, Matt was unable to attend as he was doing his radio show, Sean showed up with his VC and Jace filled in with PAVN [since the Nationalists were down a player Jace also had a 2k list].

We tried the Upriver Mission for the first time – it is very similar to Search and Destroy. I screwed up using too small of river and streams that I had brought for terrain – things worked out okay but… also thinking I am going to need taller bridges. Another issue was Chris rolled for Elephant Grass and came up with a one – very little cover! All those trees and brush now became even more important especially with all the local resistance half in boats and half on the ground reporting the Free Worlds' troop movements. I knew we were going to be hit by a lot of artillery from nearby Laos!

For deployment we had Chris flying high, Michael occupying the centre of the river, and my ANZAC were hunkered down in da bush near an objective. The Upriver Mission has the Nationalists having the first turn. Jace was able to roll in a single PAVN company while Sean was not able bring any of his VC forces to the table. Jace used his local resistance to spot for all his off board artillery parks. Michael was pretty much a sitting duck and one of his targeted boats was near my ANZAC platoon! Jace ranged in several times bailing my koala (nickname given to the Centurion Main Battle tank by the ANZAC infantry) and wounding two teams, Michael's boat was also hit but he made his saves. On the Free Worlds' turn - Michael sent his boats both up and down the river as well as his SEALs sprang into action, Chris dropped a HueyCobra and Loach out of the sky, and I moved my troops cautiously towards a nearby objective (as a point of note: the objective cannot be taken or searched until turn two). Michael, flamed a few PAVN RPG teams and MG'd a pile more. Chris swooped in and caught the other side of that PAVN company. Even though the crossfire was extreme Jace motivated the remains (have to love Fearless forces). I was unable to fire a shot, however my medic team was unable to save one of my wounded so my force lost a team.

Turn two for the Nationalists saw no large infantry companies arrive but several snipers and an Anti-Aircraft platoon popped out like jackrabbits! The AA platoon knocked Chris helos out of the sky and the snipers with no ANZAC to shoot at snapped off a couple of shots at the newly arrived SEALs – killing one team! Again more artillery hit Michael's boats but only managed to damage one. Turn two for the Free Worlds' brought the revenge of the helos with more helicopters! Chris blasted Jace's AA platoon, Michael kept chewing at the remains of Jace's company, and I successfully searched the nearby objective.

With a late start and so many players we figured two turns was our limit. Looking at two downed helos and only one objective my assumption was that it was a Nationalist victory – but again I would be in error. Searching an objective is worth two points and killing two helos is only one point (total) – a narrow Free Worlds' Propaganda victory!

A quick short game with lots of smiling faces was a good sign. Even better was Michael suggesting we should play a big 'Nam game at his garage and make it a BBQ event. And, like I always have said, '"Nam is the FoW beer and pretzel game" – now just have to get me some pretzels!

800 Points Late War Open Fire Demo
June 26th, 2016
Jace Pippin
Today I again met with Jason and Alex to do another Flames of War demo. Today I had brought the starter box Open Fire to teach Jason and Alex about the uses of infantry in the game and how assaults work. Since Alex is building an American army I thought that he would choose to use the British tank force but he surprised me and decided to switch it up and use the German Grenadier Company. The first bit of the game was uneventful as all of their exchanged fire missed but Jason was steadily moving the British up the board.
At about turn 3 was when the action started, one of Jason's Sherman platoons managed to knock out a PaK40 gun team and his tanks on the other side of the table took down 2 stands of infantry. When Alex returned fire he was able to destroy the platoon across from his infantry and knock Jason's paratroopers down to just above half strength. At this point Jason dug in his paratroopers and moved his remaining tanks into an assaulting position onto the side of the one remaining PaK40. Since this was the first time either of them had used assaults we slowed down and walked them through it, which ended with a dead PaK40 platoon. Alex taking revenge uses a panzerfaust from his 2iC to take out Jason's company commander and with his StuG's takes out the platoon command tank of the platoon that assaulted his guns. His infantry also leave their foxholes and starts to make their way towards the dug in paratroops. Jason knocks out Alex's StuG's with fire from his Sherman V's but Alex takes down the paratroopers in an assault and destroys Jason's 2iC with a tank assault from his other infantry platoon breaking Jason's company.
Jason and Alex caught on pretty good to the way assaults work in this game, especially considering this was their first time playing with them. They had used infantry once before but today really helped them understand the basic and slightly more complex mechanics of how they work. Unfortunately they are away for the next two months but we will do another demo in September which I think we will add in some artillery or maybe planes.


Page 2 of 2 •

1, 2

---
Permissions in this forum:
You
cannot
reply to topics in this forum