Have a whole lot of stuff, will sell in pieces or whatever.

Stegadon x2 one with Eotg one with blowpipes
Lots of saurus
Lots of Temple guard
2 chameleons
Saurus knights
Slann
Skinks

Just let me know if you want any and I'll pm ya a price.
I could be tempted by the right price to take it ALL:D 

Is it painted, assembled, on sprue what?

_________________
What is best in life?
Crush your enemies, see them driven before you, and hear the lamentations of thier women.
Admin




Posts

: 3443


Join date

: 2008-04-16



Umm most of it is assembled, minus some skinks on stegs and that kind of thing.

Lots of the saurus and TG are painted, they're done in the traditional scheme, with pretty awesome basing I have to say.
The stegs are painted (skinks that go with are not), and the slann is painted.

Some of the knights may not be assembled, I'll have to figure this all out. But not to worry! I will sort out exactly what I have in the next couple days here, then take some pics and post them so everyone can see whats what.

Btw there are a total of 3 people interested at the moment; fyi to all if anyone decides they want the entire army, that will be where it goes, regardless of who msg'd me first, just a heads-up.

And Carson I'll also let you know the prices I have quoted people so far are: Entire army for $350
Entire lot of saurus and TG for $175
Both the stegs and the slann for $140
For what this is worth, I bought a Beastmen army off of Nathan and everything was well put together and painted. Just a FYI.



Posts

: 4297


Join date

: 2008-06-05


Location

: Moose Jaw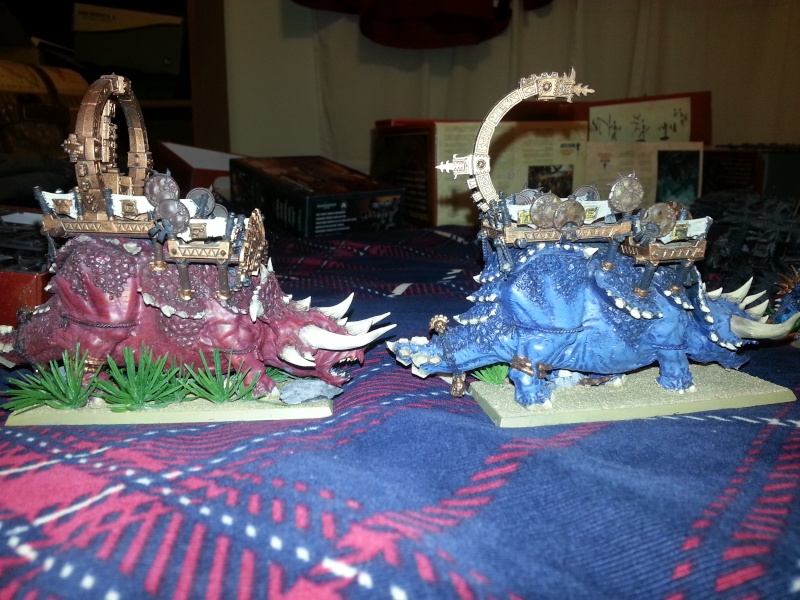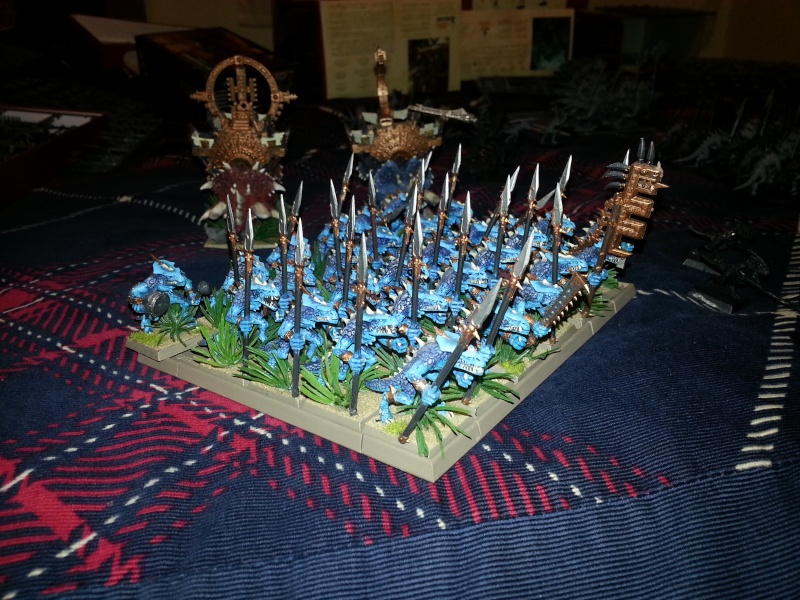 To break it down, this is exactly what I have.
30 TG, shields are not on all, but I'm pretty sure I have enough (might be missing like 2 or 3 I'll check closer in the next couple days)
56 Saurus, 30 painted, all assembled. Shields not attached, have all shields.
2 Stegadons, 1 is missing a blowpipe but there is an extra on sprue. Missing 2 of the skinks that are meant to go on one steg, but there should be enough bits to make it work fine.
2 Salamanders, one partly painted, 1 metal handler missing.
23 skinks, assembled with javs.
8 assembled cold one riders, 8 unassembled.
So the contents of this army include(roughly): 2 battalion boxes
*** Edited! I dont have 2 Chameleons, I have 2 salamanders. Sorry.
1 box of saurus warriors
2 stegadons
1 slann
1 box TG
2 salamanders
I hope these pictures made you all excited to give me $350... do it.

---
Permissions in this forum:
You
cannot
reply to topics in this forum