Hello all,
I am selling a work in progress Vampire Counts army due to having to many armies at the moment, and no job. The units need some putty work and a bit of clean up, mostly on the bases. The army is very unique, I designed it to look like it is rising out of the ground, themed around a Lord and Necormancer who have discovered a long lost army in a frozen tomb.
included are the following:
Armybook
Vampire on Nightmare
Necromancer
Wight King
7 Cairn Wraiths
Corpse Cart
44 Zombies
30 Crypt Horrors
5 Dire Wolves
20 Skeletons or Grave Guard
6 Crypt Horrors
5 Black Knights
5 Hexwraiths
Here is a picture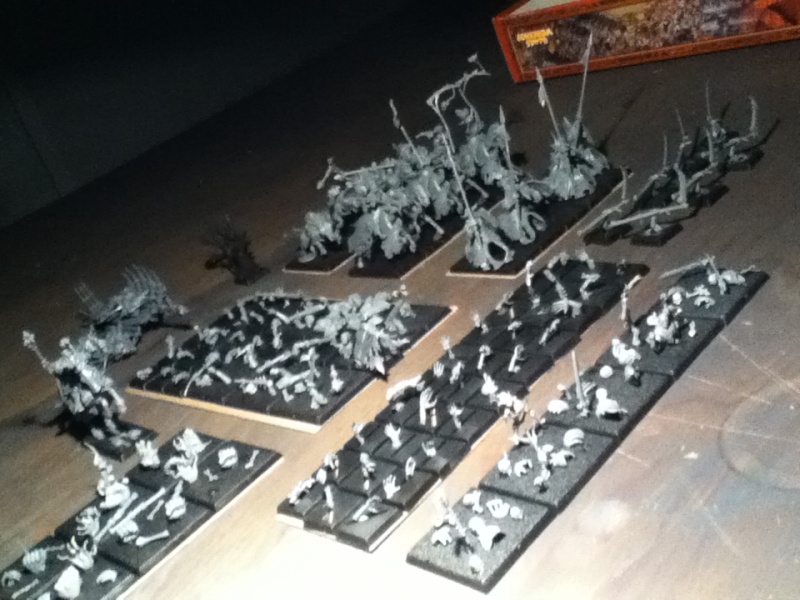 I am selling this army that can be played from 2k to 2.5k for $250 with the armybook. All that is really needed are some movement trays and the putty to finish filling in the gaps in the bases.
Here is an idea as to what the armylist could look like at 2500, it is good, the Cairn Wraiths make all the difference!
Vampire Lord
-Mace of Anti-Heroes
-Charmed Shield
-Talisman of Preservation
-The Other Tricksters Shard
-Red Fury
-Quickblood
-Barded Nightmare
-Heavy Armour
Master Necromancer
-Level 4
Wight King BSB
-Great Weapon
-Tricksters Helm
Cairn Wraith Heroes x7
30 Crypt Ghouls
-Ghast
44 Zombies
-Standard and Musician
20 Skeleton Warriors
-Full Command
5 Dire Wolves
-Doom Wolfy
6 Crypt Horrors
-Crypt Haunter
5 Hexwraiths
-Hellwraith
5 Black Knights
-Hell Knight
-Lances and Barding
Corpse Cart
-Unholy Lodestone
2500 points
[img][/img]
Last edited by Maeson on Sun May 27, 2012 7:11 pm; edited 3 times in total



Posts

: 1754


Join date

: 2008-08-15



Sorry, just to clarify, this army is the one shown in the picture? 'Cause it looks like a bunch of bits glued to bases. Is that even tourny legal?

*grabs popcorn and a seat*



Posts

: 4318


Join date

: 2008-06-05


Location

: Moose Jaw



All parts used in the making of this army are GW certified, even the bases. GW tournaments require that you use only GW models and parts. I have seen lot's of Vampire Counts armies using the same idea for unit fillers. Just thought I would make use of all the spare bitz I had. As I said, it is still a WIP.

I guess I could have posted better pictures to show close ups of how I modeled the arms to look like they are rising up out of the ground. Kinda hard to see the detail I must admit. I will take some better pictures after I fill in the gaps on the bases and get some horse heads glued on to the Black Knights. The idea was to use some modelling snow to make the models look like they are rising from a frozen grave.

I know it might seem like a high price tag, but consider this:

There is a new armybook
There is a rare OOP metal Wight King that you can't buy anymore
I spent well over the price I am asking on all the kitz and bases that I used to assemble this army.









I'm game to see better pictures. Don't do it for me though. 'Cause as far as I can tell it's still some bits glued to bases being called an army. I admire your pluck! If you manage to sell this "army" for even half what you're asking then you're way, way, WAY better at selling shit then I could ever hope to be.
I have a red paperclip! Any offers???



Posts

: 1754


Join date

: 2008-08-15



Maeson wrote:I spent well over the price I am asking on all the kitz and bases that I used to assemble this army.
And you will still have the models that you built from those kits. This is a joke.
If you are going to try and turn the junk you have left over after building your army into a second army, be a little creative about it:



Posts

: 1124


Join date

: 2008-05-09



I think the army is a good idea but not for one that you are going to try to sell for that kind of money. The concept for an undead army rising from the ground is not a new one and I have seen it done quite well but it requires some decent basing work to pull it off. This army as it is needs a lot of work to be worth the amount you are looking for.

Here are my issues:
1. The hands with the scythes. You wouldn't model a unit with all the same model in the same pose would you? That ends up looking really static and boring. Even more so when all you have is a scythe and a skeleton arm sticking out of the ground. If you had a head and shoulders on some, put some of the arms at a different angle, etc. it might look a bit better.

2. The units should have some sort of movement to them, put the back ranks just barely emerging from the ground and the front ranks be pretty much fully emerged. It gives them a sense of motion and makes the unit look a little more legitimate instead of a bunch of bits stuck to a base.

3. I don't see the corpse cart in your picture. That isn't something that you can or should represent with any number of bits. A centerpiece like that should be done right.

4. Lastly, I think that you need to do some basing, follow through with your vision and actually make it look like the arms, heads etc. are clawing their way out of the frozen ground. It is really hard to get past the look of "bits glued to bases" even if all the above issues were addressed until there is some actual ground to complete the image. You are essentially asking your customers to pay $250 for the bits required to start building an army of undead that is rising from the ground. You haven't put the effort into it. Basically, I could go on e-bay right now and find the bits to make an identical army. I could end up paying almost $250 but I'd be getting exactly what I wanted and I'd be able to fashion the army exactly how I wanted.

Basically you are asking for too much money. Compare this army to the recent posting for wood elves. It included a batallion, a couple characters and 10 eternal guard for $80. That was CHEAP for what it was. I'd say $50 is the maximum you will get for this army as it is and you'd probably have to sell it on E-Bay to get that. I could be wrong but that's my opinion.

And Eric, that is a sweet Necron army!



Posts

: 5293


Join date

: 2008-06-10


Age

: 36


Location

: Saskatoon



Thank you all for the constructive criticism, I agree I need to do more work on the army and post some way better pictures if I am going to ask $250. Lesson learned, never share a work in progress, and don't ask for money for it until the vision is complete. I guess you can blame a guy for just trying to pay his rent!

I wasn't totally dead set on getting $250 really, I figured a complete 2500 point army with a new book would be worth that much to anyone who just wants to play. If you look at this army from a painting masters point of view then yeah, it ain't worth that much. Most people that saw this army in person at the FRAGCON thought it would look cool when it is painted and based properly.





Maeson, it is not an army. No matter how you play it out it's gonna be bitz glued to bases. You can make unit fillers as you've done but not an army.

---
Permissions in this forum:
You
cannot
reply to topics in this forum